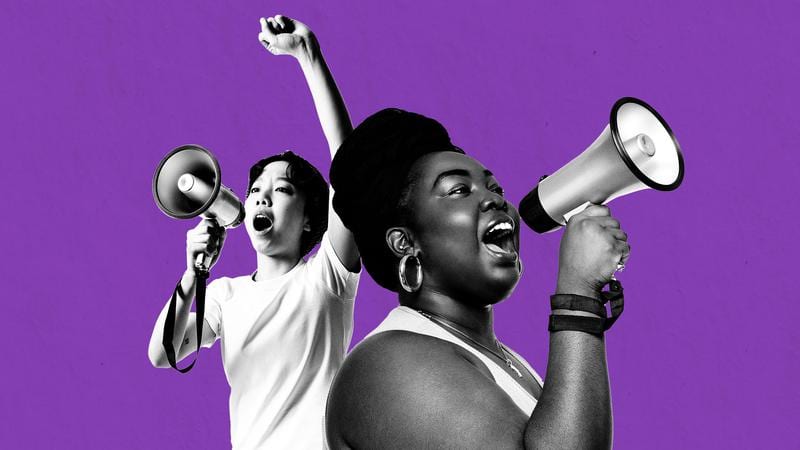 Protest Tips: How to Stay Safe at Abortion Rights Rallies
Join us and spread the word to your community
Peaceful protest is our right. Demonstrations are a powerful way to demand justice — they can lift our spirits and lead to transformative change.
Concerned about COVID protections? The police presence? Harsh weather? Counter-protesters? Before you go out to rally for abortion rights, review these tips to protect yourself and stay safe. Keep in mind that our movement believes in peaceful, lawful protests, and nothing on this website is intended to encourage any illegal activity.
---
PLAN AHEAD
1. If you aren't well or might have COVID-19, stay home. If you ARE feeling well, still assess your level of tolerance for getting exposed to COVID-19.
2. Bring a face mask — ideally an N-95.
3. Pack water, as well as wet wipes or tissues.
4. Wear a hat and sunblock to protect yourself from the sun.
5. If you are concerned about being exposed to tear gas or pepper spray, avoid wearing contact lenses. Bring goggles, sunglasses, or safety glasses.
6. If you have asthma or severe allergies, bring your rescue medications with you. That includes your inhaler, epipen, insulin, and prescription medication.
7. If you are on your period or might get it, bring menstrual supplies that make you comfortable.
8. Before you head out, know the event location of the protest and the route of the march, and have a plan for how to get home.
9. Charge your phone. Bring an external battery pack if you want to be extra cautious.
---
PUT SAFETY FIRST
To help prevent the spread of COVID-19, avoid touching your eyes, nose, and mouth unless your hands are clean. If possible, stay 6 feet away from other protestors and law enforcement — especially if they're not wearing masks. 
Drink water often to stay hydrated. 
Stick with a group and have a plan for contacting your friends if you get separated.
Be aware of your surroundings and if you are moving, periodically look for landmarks or cross streets, so you know your location. Try to cool down friends if they get overheated emotionally or physically.
---
THIS IS IMPORTANT: DON'T ENGAGE WITH ANTI-ABORTION PROTESTERS
You may see people protesting AGAINST the right to abortion. These counter-protesters may be vocal, but they shouldn't keep you from marching for your beliefs.
Keep in mind: Anti-abortion activists want to control people's decisions about their bodies. They want their personal beliefs to override the freedom of others. 
Counter-protesters' signs are often designed to shame, scare, and provoke. They may use graphic, inaccurate depictions of abortion to make this routine and essential health procedure seem horrific and dangerous. Don't buy it.
What not to do ❌
- DO NOT ENGAGE with anti-abortion protestors.
- If anti-abortion protesters try to talk to you, do NOT reply. If they try to give you materials, you do NOT have to take them.
What to do ✅
- Your best move is to ignore them.
- Remember that you are rallying to make your voice heard to our government and to the public. Keep your focus on these proactive efforts.
Get more protest tips with Liberate Abortion's guide for advocates, which aims to replace harmful misinformation with facts about the interlocking forces that limit abortion freedom and justice.
---
POLICE-RELATED RISKS
The U.S. Constitution and First Amendment protect peaceful assembly as a fundamental right. However, there may be a police presence at events and understanding how to safely interact with police is essential. 
How to Deal with Police Presence
Try to avoid direct contact with police and military officials.
Don't run, even if it's to close a gap among protesters and/or marchers.
Protect your cell phone privacy. Lock it, even to take photos, turn off thumb/face unlock; disable location services; turn off home screen notifications; and disable Siri/Alexa. Learn more about digital privacy with the Electronic Frontier Foundation's protest guide.
Be respectful and consider your community's safety: If you're white, don't put the people of color around you at risk by provoking the police. Remember that if police respond with violence or arrests, people of color can face harsher repercussions than white people.
If You're Stopped By Police
Don't resist, even if the police are violating your rights. Here's what to do if police violate your rights.
Keep your hands visible. 
Ask if you're free to leave. If officers say yes, calmly walk away.
Don't consent to a search of yourself or your things, including your phone. 
More Guides on Protesting Safety Amid Police Presence
ACLU's Protesters' Rights: your rights for organizing protests, attending protests, taking photos and video at protests, and getting stopped by police while protesting.
ACLU's Students' Rights: public school students' rights to freedom of speech, walkouts, and other protests.
---